Rod Morrison's Houston Apartment Locator Service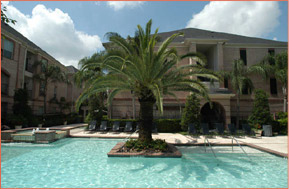 Houston Apartment Locator's are licensed Real Estate agents with specialized knowledge in the Houston Apartment rental market. We have access to vast amounts of data on each individual apartment community. This organized information enables Houston Apartment Locator's to offer you, the Customer extensive detailed profiles for Houston Apartments.
Our Service to you, the Customer is TOTALLY FREE! We are paid a referral fee from the property leased out of their advertising budget so it DOES NOT add any additional expense to the Customer for using our service. Actually, it benefits the Customer to utilize our service since you will be furnished with all of the current leasing incentives the Houston Apartments are offering.
Houston Apartment Locator's have access to thousands of apartments with detailed specifications on each one. No longer will you have to call properties to see if they meet your particular search criteria. We can determine which properties meet your search parameters within minutes of receiving your search inquiry form. This saves you valuable time and resources of not having to call apartments that do not offer what you are looking for.
The more detailed search criteria you give to us the better we can assist you so when you complete the online search form please be as specific as possible. Some search elements you might consider that will enable us to more efficiently assist you are:
do you require certain school districts
are washer-dryer connections required
pet friendly properties (list size of pet)
near metro park n ride
onsite gym facility
private garage options
Also, prior to searching we recommend that you order your credit report if you have concerns of negative ratings. If you have negative rental history it is always the best approach to be up front with your Houston Apartment Locator. Apartment Locator's can save you time and money by avoiding apartments that have qualifying guidelines that you do not meet.
Please call or email us today to get started with your Houston Apartment search so we can save you:
TIME & RESOURCES – We will provide you with detailed, specific data for apartments that meet your search criteria eliminating wasted time visiting properties that do not offer what you need so you save in fuel costs as well!
INCENTIVES – Apartment Locators have knowledge of all of the current leasing specials and will work to get you the BEST DEAL. One month FREE, low move in, zero deposit, etc.
UNNECESSARY STRESS – Apartment Locator's help to alleviate much of the frustration involved in finding your perfect apartment home. With your personal customized listing you will only be visiting properties that fall within your specific search criteria.
Experience the advantage Houston Apartment Locator's can offer you by clicking below and get your personal customized apartment listing within minutes.
Help is 1 click away!
Simply fill out this quick on-line Houston Apartment search form.